Miakoschka – Australian Traditional Siberian Cat Breeder
Welcome to our site my name is Marie Mahoney, I was first introduced to the love of all cats at a very young age, living on a farm in the far north of New Zealand. My first cat I remember was a huge grey and white cat I named Mousie because he looked the same colour as a mouse! His mate was a beautiful tortoiseshell and white girl just called Mummy in those days as desexing was unheard of and babies just appeared with great regularity.
Miakoschka has been the leader in supplying information and articles for many websites where people search for the Siberian cat, and this has lead to the promotion of our breed in many avenues. Much of what you will read on sites such as: www.catworld.com.au, www.catsofaustralia.com.au, www.ozkitty.com.au, www.petshq.com.au, www.petlink.com.au and www.cats.com.au plus many other sites is taken from information supplied by me.
Leaders in Siberian Cat Breed Information
I have also been requested to be involved and contributed to many newsletters around the world Flash Cats in NZ Burkes Backyard used my photos and information about the Siberian. The Cats Life in Hong Kong also ran an article with information collected from us and about our breed. Being able to promote the Siberian breed is one of the things we love to do and our hope is we can reach as many as possible and get the public to learn about this fantastic cat!
I moved from Auckland in New Zealand in 1979 and Warren and I married in 1983. The final decision to remain in Australia was made. I obtained my first Birman in 1985, when my husband Warren agreed to buy my very first pedigreed Birman and have been entranced with them ever since.
I am the current President of our Birman club here in Queensland and have held this position since 1997. I have been actively involved at an executive level on the previous cat control body our breed club was registered with, as past Secretary and Treasurer and now hold an executive position as vice president for our group Queensland Feline Association Inc.In 2004 I became qualified to judge long hair exhibits with this group and hope that this will be a further advancement into the world of showing and breeding cats. In 2007 I was elected secretary to the judges association.
I was invited in 2011 and elected to the position of Vice President to Taiga Siberians in the USA, …and it was such an honor to hold and serve this position.
This club the oldest breed club for the Siberian in the USA! The club was also the very first one I joined to learn more about the wonderful Siberians and so it was a great privilege to be given this opportunity. To date I've bred many top show winning Siberians and we are now breeding a great selection of the available Siberian colours.
Miakoschka Kings & Queens
My years of meticulous selection for the betterment of our cats is shown by what is now reflected in my breeding and show cats you will see on our Kings and Queens pages. The temperament on our Siberians we are now breeding is outstanding with many now returning outstanding results on the show bench and this is reflected in the winning of many top awards by cats that have been bred by me or originate from my lines.
Since our years of involvement with the Siberian cats and the progress in Australia I have been the leader in introducing our new breeders to this wonderful cat and the cats they now own are a testament to this.
We can be seen in attendance many shows in Queensland and interstate as well. If you would like to find out where we will be please email me marie@siberiancats.com.au
Other Breeders
My recommendation for breeders of TRADITIONAL Siberians in Australia that are working together for the betterment of our breed and have the same goals as I are able to be contacted by email please get in touch for updated information on these TRADITIONAL breeders.
Many of the cats now shown and bred with will have a Miakoschka cat in the background or in fact be one from here. We strive to make sure we that we all import lines from different breeders in many parts of the world so that our lines are as diverse as possible. Our cats have come from the following countries Russia, Ukraine, Germany, Japan, USA, Norway, Sweden, Switzerland, Budapest,New Zealand and the UK. We import only the very best we can find available that will enhance our programs. Contrary to what you may read on other sites we also have direct imports from the country of origin Russia in our lines. We appreciate that the breed originated in Russia and there are many fantastic lines that we are now able to access.
We also aim to test that our lines that we are currently working with and DNA tested to be NON CP carriers. Here at Miakoschka we have sent many wonderful examples of TRADITIONAL Siberians internationally and these now feature in many breeding programs and are also winning in the international show scene. See our news blog for updates on what is happening around the world and here also.
Love and Attention at Miakoschka Cattery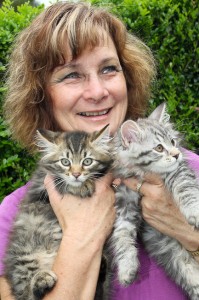 All of our cats are handled with great love and attention and this is reflected in the temperament of all the babies I place with new families. I am always available to talk to the families and love to hear how that the new special little member of their family has changed their lives for the better.
We strive to ensure our babies are well adjusted and happy to maintain contact with our pet owners we encourage emails and phone calls I am always available to chat to about your Siberians.
High on our list of priorities is to be able to help as many families as possible become owners of a Siberian and if allergies are an issue we will work with you to help you test with either a pet owner in your area or with one of my cats here. We do not charge for this it is our personal opinion that this is unnecessary and our aim to help of the greatest priority. Should you be okay then we will add you to our waiting list.
Our Cattery is located in Brisbane, Qld just on the lower end of the north coast and a thirty minute drive from the center of Brisbane. We welcome prospective owners to call us or email us and arrange a suitable time to visit us and meet our TRADITIONAL Siberians and perhaps meet your new family pet. We are confident that our cats are healthy and well adjusted and love to show off their babies to you and that they will not become stressed by visitors. Due to some of our commitments we do have limited times that are available so do allow some time to arrange this as with all things we do have schedules to maintain but we are happy to assist where we can.
We currently hold a Morton Shire council permit and have met the standards required to be able to have our Siberians on our property. We are also registered breeders with Queensland Feline Association Inc.
My Siberian Dream (came true)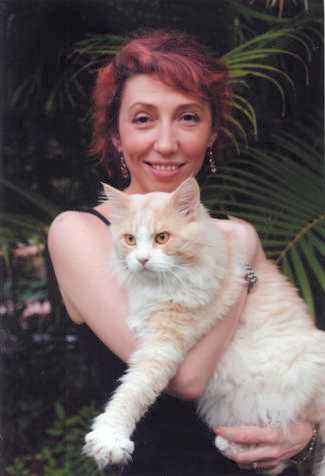 My first introduction to this magnificent, natural Traditional Siberian cat, was via Russian judge Yanina Melnikova that was visiting Australia in July, 2001.
I happened to be having dinner with her and after dinner we started to look at the photos she had brought with her to show us of how things are done in Europe at the cat shows held there. Among her photos she happened to show me several photos of the most beautiful Siberian's, and that was it I was hooked the more I looked at them the more I was impressed, I don't think I had ever seen anything so pretty. We discussed the breed for quite a while and I have to admit I was so impressed to learn that this was a strong healthy breed that appears to have no known genetic problems that we see in some of the other breeds. I had been quite seriously considering another breed but was held back by what I was discovering.
So off I went to the web to try to find out where I could get a Siberian but to my dismay we were not even allowed to import from the originating country of Russia.
Our country did not allow any imports from Russia at that time, so I then turned to the United States and Europe I was so impressed with the cats I saw on different sites in the U.S. that I decided that this was where I would go to. All of the foundation cats in the USA came directly from Russia in the early days of the importation of the breed this is well documented in the history of the Siberians arrival in the USA.
It was so easy for them to fly in and bring home babies from lines that were as close to the inception of the breed being registered in Russia that cats appeared in the USA with many foundation lines. Importing even from the U.S. the procedure is long 150 days quarantine in the country of birth, and then another 30 days once they arrive here. My closest port in the country is Sydney over 1000 kilometres away, so I will still not be able to get to see them until a week after they arrive and then when they are due to come home 30 days later – This at least it gave me an option to buy from breeders using lines that were directly imported from Russia. This has since been updated to 180 days in the country of origin and 10 days here but it is still a hurdle to get new lines for our plans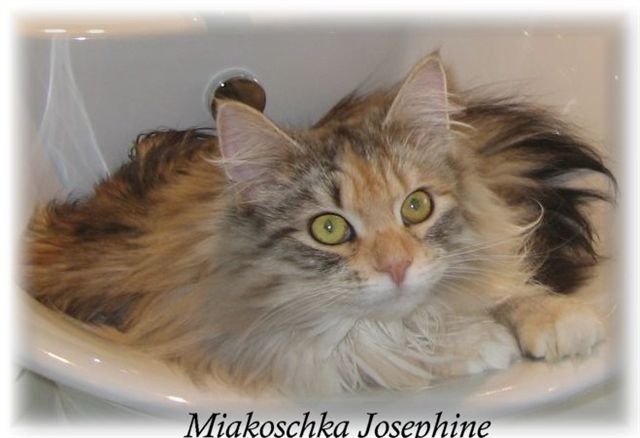 Along the way to trying to find my new cats I came across several breeders who were of great assistance to me and ended up with accepting an offer of a beautiful black silver tabby male who we have named Sibano Czar of the Rings.
The next Siberian breeder I happened to meet was Judy Chappetta, who happened to be here judging at a cat show in our Australia. I arranged to meet with her when we went to the U.S. When we were arrived we found a tortie/tabby Van Cooncreole Veronika and this was to be my first mate for Sibano Czar of the Rings.
Judy was also one breeder that flew into Russia many times and brought home many new lines into the USA that were foundation lines for her breeding program.
The First Introduction of Siberian Cats to Australia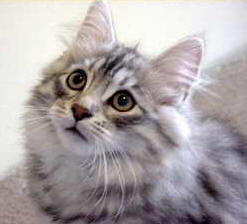 I hope that the coming years will continue to be exciting times for us here at Miakoschka Cattery, and we will look forward to promoting this wonderful cat as much as we can.
The Siberian breed is now recognised here with all of our cat control bodies. I hope many will continue to fall in love with the Siberian cat as we have an I am sure it will put its paw print up there with the rest of the breeds we now see here in our country as one of the cats to own and cherish.
Bringing a new breed into our country I realised that I needed a gene pool as quickly as possible and so once again Jonathan and Kris came to my rescue. They so kindly entrusted to me,Katusha Black of Sibano (Tink), a young adult girl of theirs that has been a great Mum for them. Katusha Black came from the famous Russian cattery simply called Black) a direct import from Russia. These cats from Kris were our foundation cats and are seen in many pedigrees. Our hope was that she will carry the foundation stock with her when she leaves the country in February. Without the assistance of Jonathan and Kristine Hirst I would have been quite a way off being able to get this breed off to the ground here in Australia and for their assistance and genuine interest in establishing the breed here in Australia, I am most grateful.
~Marie Mahoney, Founder of Miakoschka Siberian Cattery breeding TRADITIONAL SIBERIANS ONLY

Updated July 2017